Bridging Early Development to Clinical Applications with Histopathology
Our lab provides advanced capabilities for in-depth assessment of tissue parameters with support at each stage in the histology workflow. Our experienced team can assist with everything from processing and embedding samples, to IHC assay development, to analysis via custom pathologist assessments, and/or automated image analysis.
Bridging the gap between preclinical findings and clinical applications, we ensure high quality data and reliable results throughout each stage of development.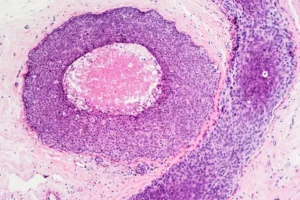 IHC & IF Services
Visualize targets of interest with immunohistochemistry (IHC) and immunofluorescence (IF) labeling. Determine abundance, distribution, and localization of antigens of interests in tissues or cells.
IHC assays can be performed with both chromogenic and fluorescent labeling methods.
Highly multiplexed immunofluorescence imaging can maximize data from limited precious clinical samples. Profile CD markers, T-cell activation and exhaustion markers, antigen presentation and immune cell infiltration markers, and comprehensively characterize the tumor microenvironment (TME).
Our assay development process is designed to capture your study and validation requirements.
A complete validation report including assay precision, specificity, and performance can be provided along with an SOP detailing the final protocol.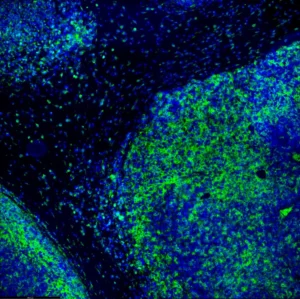 H&E Staining
This simple yet essential technique provides a broad view of various cellular features. Our pathologists commonly use it to investigate the presence of tumor infiltrating lymphocytes (TILs) and stromal TILs in clinical samples. Our Hematoxylin and Eosin (H&E) staining services provide a reliable view of cellular and tissue structures in formalin-fixed, paraffin-embedded, or fresh frozen tissue. For consistent results, all our H&E staining procedures are monitored by our certified pathologists.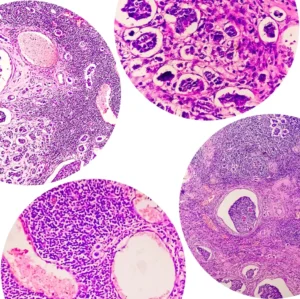 ISH Services
Determine the precise localization and quantification of nucleic acids including DNA, mRNA, microRNA and DNA. We utlize a variety of probe methodologies including, fluorescence (FISH), chromogenic (CISH), and silver (SISH) in situ hybridization. We offer RNAscope® (ACD) nucleic acid in situ hybridization technology with FFPE cell preparations.