We harness state of the art CyTOF / Mass Cytometry technology in combination with the 30 antibody Maxpar Direct Immune Profiling Assay and Maxpar Pathsetter automated software to precisely and reliably quantify 37 immune cell populations in human whole blood or PBMC.
The first complete sample-to-answer solution for single-cell high-dimensional immune profiling of human PBMC and whole blood, the Maxpar® Direct™ Immune Profiling Assay and Maxpar Pathsetter™ software provide the data quality and reproducibility required to capture the highly individual nature of immune response in health and disease.
Our ultra-high parameter immune monitoring services are ideal for clinical and translational studies.
Work with whole blood or PBMC
Conserve precious samples compared to flow cytometry – requires only 270µl of whole blood
Customizable – add up to 15 additional markers to achieve deeper insights into specific immune cell populations / function. 
Highly consistent and reproducible results between sites, instruments and technicians
Detailed report identifies 37 immune populations, the number of cells per population, the percentage of total intact live cells, and the percentage of the parent cell population, as well as QC metrics.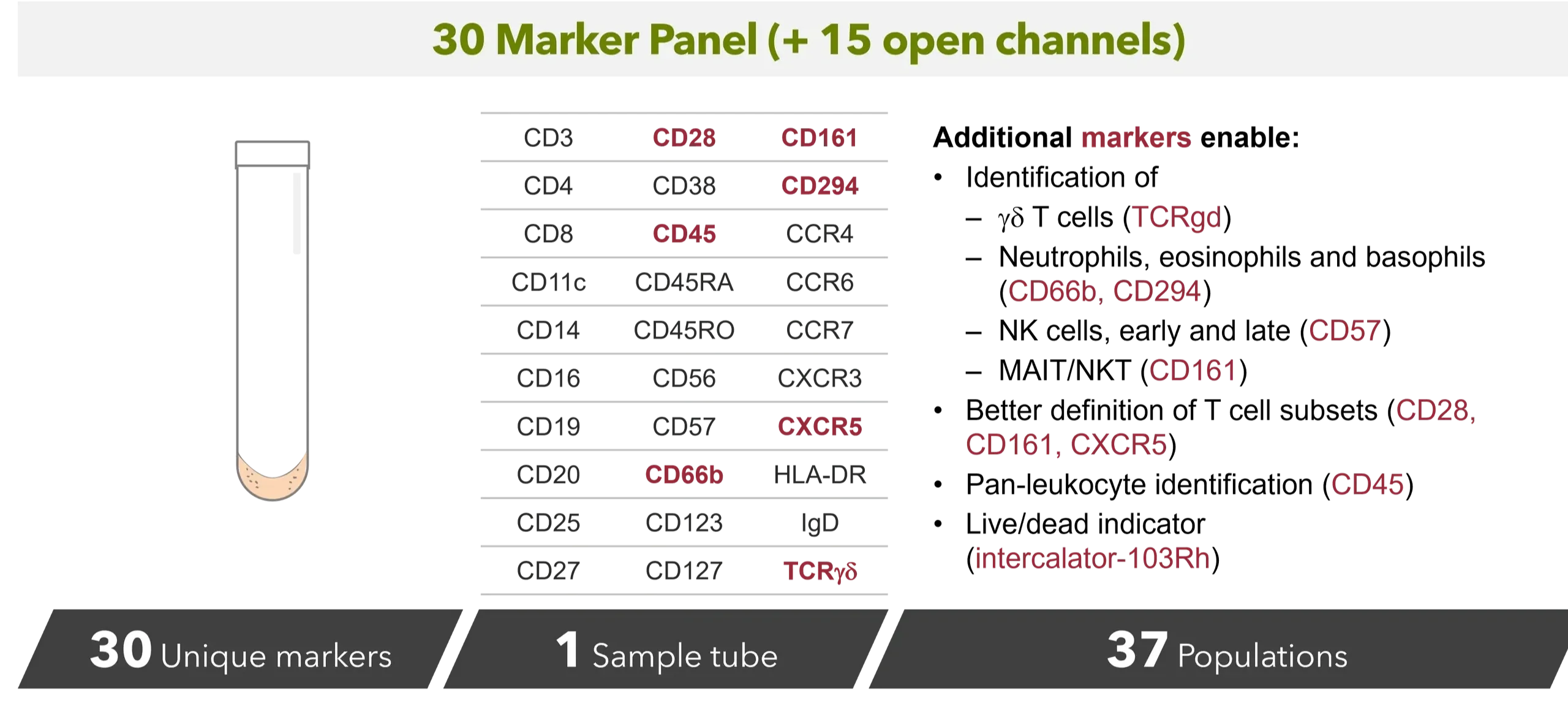 Customize Easily with Preconfigured Expansion Panels
T Cell Panel 1
Comprehensive T cell and NK cell exhaustion profiling with inclusion of 5 inhibitory receptor markers:
Tim-3, CD69, LAG-3, NKG2A, PD-1, TGIT
T Cell Panel 2
Investigation of T cell migration, activation, or exhaustion 
In-depth assessment of circulating T follicular helper cells and T stem cell subsets:
Cd11a, Tim-3, CD95 (FAS), PD-1, ICOS, CXCR4, TGIT
T Cell Panel 3
Phenotyping of T cell costimulation and exhaustion
Antigen-specific T cell responses with cytokine-independent activation-induced marker (AIM) assays:
OX40, TGIT, CD69, PD-1, TIM-3, ICOS, CD136 / 4-1BB
NK Cell Panel 1
Deeper phenotyping of NK cells  
Monitoring of NK regulation, activation, and exhaustion:
CD181, NKp30, NKp46, PD-1, NKG2A, ICOS, TGIT
Myeloid and B Cell Panel 1
Deeper phenotyping of myeloid and B cell subsets • Characterization of monocytic myeloid-derived suppressor cells • Monitoring of B cell regulation and activation • Monitoring of neutrophil activation and exhaustion:
CD181, Cd22, CD80, CD163, CD33, PD-1, CD11b
Myeloid and B Cell Panel 2
Deeper phenotyping of B cell and myeloid cell subsets • Identification of transitional B cells • Monitoring of B cell regulation, activation, and exhaustion:
CD40, Cd22, CD80, CD163, CD24, PD-1, CD11b
Basic Activation Expansion Panel
Contains basic markers of cell activation applicable to many cell types
 • With Maxpar Direct Immune Profiling Assay only:  
Phenotyping of immune cell activation  
Study of antigen-specific T cell responses   
Measuring of cytotoxic potential in both T and NK cells   
Cytokine expression profiles  
CD107a, IL-2, TNFα, IFNγ, Perforin, GranzymeB
• With Maxpar Direct Immune Profiling Assay and 1 of the 6 panels above:   
Degranulation and cytotoxic potential  
Cytokine profiling of cell subsets identified by the surface marker Expansion Panels  
Cytokine expression profiling in conjunction with AIM assays
T Cell Activation Expansion Panel
Deep phenotyping and functional characterization of T cell activation and exhaustion  
• Includes cytokine markers used to:   
Study phenotype of cells responding to a particular treatment or stimulant   Identify frequency of antigen-specific T cell responses after natural infection or vaccination 
Measure cytotoxic potential in T and NK cells   
Identify activated T helper cell populations
CD107a, IL-2, CD69, TNFα, IFNγ, IL-4, CTLA-4, IL-10, IL-17A, Perforin, GranzymeB
T Cell Activation Expansion Panel
Cytokine and additional phenotypic profiling of myeloid and lymphoid cell subsets  Functional characterization of cell types:   
Inflammatory and suppressed monocytes 
B cell regulation and activation 
T cell activation and exhaustion
IL-6, CD69, TNFα, CD40, GM-CSF, CD80, IL-10, CD33, PD-1, IL-1β
Other Options to Expand and Customize
Choose from our expansive catalog of Maxpar metal-labeled antibodies
Use our Custom Conjugation Services to label an antibody of your choice