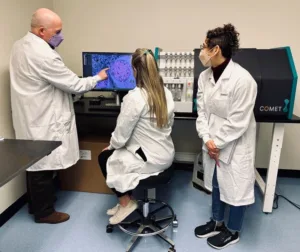 LAUSANNE, Switzerland and PORTLAND, OR, USA– February 23, 2023 – 5:00 pm (CET) | 8 am (PST) – Lunaphore, a Swiss life sciences company developing technology to enable spatial biology in every laboratory, and Sirona Dx, a leader in multi-omics, single-cell analytical services, today announced a strategic collaboration in which Sirona Dx will become the first US-based Contract Research Organization (CRO) to offer Lunaphore's flagship COMET™ spatial biology platform as a service. COMET™ will complement Sirona Dx's portfolio of research service offerings to meet the needs of researchers and biopharma teams across various disciplines.
Lunaphore's COMET™ platform is the only fully automated, high-throughput, hyperplex platform with superior tissue profiling capabilities. Its capacity allows the generation of high-quality and reproducible data on large cohorts of samples in days. In contrast to other spatial biology solutions, COMET™ works with off-the-shelf, label-free primary antibodies, enabling customers to use their trusted antibodies and making panel design fast and flexible. Thanks to its versatility, COMET™ has a wide range of research applications across multiple disciplines and all stages of research and drug development.
Sirona Dx is a highly-specialized technical CRO and pioneer of single-cell and spatial biology, having launched ultra-high parameter, multiplexed single-cell services to biopharma in 2018. Their innovative, technology-agnostic service capabilities contributed to their selection as a Top 10 CRO of 2021 by Medhealth Outlook.
"Platform selection is one of the most important decisions to make when developing multiplexed tissue imaging panels for our clients", said Andrew Brown, Ph.D., Chief Commercial Officer at Sirona Dx.  "We are extremely pleased to partner with Lunaphore to integrate the COMET™ platform into our spatial-omics operations. The ability to select off-the-shelf, label-free primary antibodies is highly advantageous and reduces the time required to develop robust, highly reproducible assays.
"The deployment of COMET™ at Sirona Dx is particularly meaningful for Lunaphore as it helps to address the large demand from US-based biotech and biopharmaceutical companies to access highly reproducible hyperplex data," said Déborah Heintze, Chief Marketing Officer at Lunaphore. "Furthermore, Sirona Dx's CLIA certification and deep understanding of pharmaceutical regulatory requirements add significant value for scientists looking to adopt spatial biology tools to accelerate translational research.
To learn more about the COMET™ platform, please visit: https://lunaphore.com/products/comet/
To learn more about Lunaphore, please visit: https://lunaphore.com/
About Lunaphore
Lunaphore Technologies S.A. is a Swiss company born in 2014 with the vision of enabling spatial biology in every laboratory. Lunaphore provides solutions based on a game-changing chip technology that can extract spatial proteomic and transcriptomic data from tumors and other tissues, transforming any assay into multiplex spatial biology with an intuitive approach. Lunaphore empowers researchers in immunology, immuno-oncology, and neuroscience to push the boundaries of scientific discovery and drug development. Lunaphore's technology enables the identification of biomarker "signatures" with clinical relevance to support the development of diagnostic tools and streamline clinical trials, to ultimately improve patient outcomes. For further information on Lunaphore and its products, please visit: www.lunaphore.com
About COMET™
COMET™ is a fully automated, sequential immunofluorescence (seqIF™) instrument, able to perform hyperplex staining and imaging, producing high-quality data in a robust and reproducible manner. With superior tissue profiling capabilities, the system allows multiplex analysis of 40 different spatial markers per automated run on a tissue slide. COMET™ has a wide range of research applications, allowing for a dramatic improvement in the understanding of disease pathology in areas such as immuno-oncology, neuroscience, and infectious diseases. To learn more about the COMET™ platform, please visit: https://lunaphore.com/products/comet/
About Sirona Dx
Sirona Dx is a technical CRO, founded in 2016 to accelerate the pace of immunotherapy and targeted therapy development. Bridging silos between diagnostics manufacturers and translational clinical research, Sirona Dx offers specialized high complexity, single-cell services supporting exploratory biomarker programs and advanced precision medicine initiatives to deliver safer and more effective treatment solutions.  Learn more at Sironadx.com.
For further information contact:
Andrew Brown, PhD
Chief Commercial Officer, Sirona Dx
Email: [email protected]
Irene Tamayo
Lunaphore Corporate Communications
Email: [email protected]